Post by Pocahontas on Jun 29, 2008 17:28:05 GMT -5
Pocahontas
"Look around you! This is where the path of hatred has brought us!"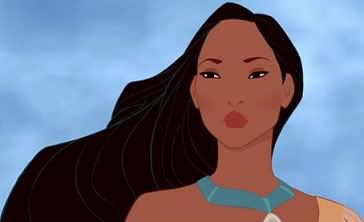 Friends
Best Friends:


Meeko - meet after she lost her mother in a Masowomic raid. Very hard to seperate.

Flit - this little bird has become Pocahontas's unofficial bodyguard. He may be tempremental at times, but he has a sweet heart

Nacoma - an unwavering friend since childhood. Has been there through all the hard times and kept Pocahontas in line many times.

Grandmother Willow - plays the role of mother and guide to the young indian. Pocahontas would be lost without her.

Esmerelda & Djali - One of Pocahontas's newest friends. The two have similar pasts and a problem with Frollo. These two can talk about anything. Djali love Pocahontas for all the attention she give him.
Friends:


Kovu - great friends from the beginning. Has helped in many battles throughout the park and been a confidant when one is needed.

Melody - Pocahontas has a soft spot for this little mermaid and wants to learn more about her culture.

Jim - One of the first she met at the park and helped her save Melody from Ursula.

B.E.N. - While original thought of as an annoyance, Pocahontas has come to respect this wacky robot.

David Kawana - First met during the fight with Frollo on Mainstreet, these two have become fast friends. He was willing to dress in drag to help her. What a friend!

Nani - While they have come in little contact with eachother in the park, Nani is great for a light-hearted conversation in dark times.

Jane Porter - After the battle in the Cafe, Jane has been a great companion for Pocahontas.

The Lost Boys - Troublemakers they may be, but they have a spot in Pocahontas's heart because of their kindness and loyalty. Plus they are too adorable to hate.

Megara - Met only briefly, but she is a wonderful listener if times are hard. Pocahontas wants to know her better.

Captain Li Shang - met in the Imperial City. These two have a lot in common.

Teague Sparrow - A pirate that Pocahontas admires greatly because of his help in the Cafe fiasco. A father-away-from-home.

Enemies Turned Friend:


The Settlers - Originally a threat to her people and home, the English settlers have become great allies for the Powhatan tribe and quenched Pocahontas's curiousity about worlds outside of her own.

Good First Impression:


Eilonwy

Kiara

Milo Thatch - One of the guests at Jane's party and a man that answered Pocahontas's questions about the future of her people.

Jack Sparrow - Despite his deallings with Frollo, this savy man's charm is slowly earning him Pocahontas's respect.

Panchito - Pocahontas was instantly sweapt away by this Mechiano's charm and wit.

Chicken Little - He's sweet and adorable, what more is there to say?

Basil - Recently introduced but a very charming man (uh, mouse.)

Robin Hood - A new friend but a gentleman who will help in times of trouble.

Mulan - Met a few times and is incredibly curious about this strange warrior.

Romance
Loves:


John Smith - Pocahontas's first real love. Later fell apart when their life goals changed. She still cares for him as a friend.

John Rolfe - When she thought that Smith was dead, Pocahontas opened her heart to this man and eventually returned to Jamestown with him.
Crushes:


Kenai - This Inuit warrior has stolen her heart. They have much in common and they are so adorable together.

Secret Admirers:
NeutralEnemies
Rival:


Governor Ratcliffe - The man responsible for the invasion of her homeland and the war between the settlers and her tribe. Duh!

Judge Claude Frollo - Originally tried to kill her because he mistook her for Esmerelda, Frollo is still out to get her. This relationship has no chance of turning out good.

Lady Tremaine - Recently met at the Tree of Life. A bitter old woman with a heart of stone!

Friends Turned Enemy:
Off to a Bad Start:


Kocoum - A village warrior that Pocahontas was suppose to marry. While she does not dislike him, she just wants someone that not so serious.

Nuka - Because of his hateful remarks of Kovu, Nuka is not Pocahontas's favorite. Hopefully things will get better in the future.

Hades - An ally of Frollo's. Enough said.

Family
Mother:
Name Unknown
- Killed in a raid when Pocahontas was a child. Still is a part of her spirit even after her death.
Father:
Chief Powhatan
- The wise chief of Pocahontas's tribe. While he can be stern at times, he loves his daughter and just wants her happiness.