Post by Hades on Aug 18, 2008 9:45:45 GMT -5
Hades's Plot Tree
If you want your name here, let me know. And i will make new categories if you suggest one thats not here.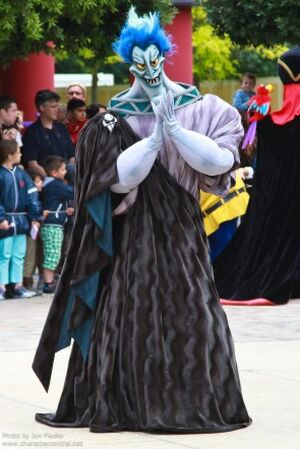 Friends- [glow=green,2,300]Frollo[/glow]: Yeesh, well, what can I say? Out of all these villains wandering about here, I think Frollo qualifies for a really good friend of mine...ok, fine, we're best friends. Plus, I provided special effects for his Hellfire sequence!
[glow=green,2,300]Lady Tremaine:[/glow] Another best friend of mine. We've gotten along real well--could have something to do with the fact that she's Frollo's sister.
[glow=green,2,300]Jack Skellington[/glow]: The guys a skeleton--I'm Lord of the Dead. 'Nuff said.
[glow=green,2,300]Panchito[/glow]: An annoying talking chicken (there seems to be a lot of them, no?) who wants to be my friend. Ew.


Enemies- [glow=red,2,300]I'm not going into this. There's too many of 'em.[/glow]Captain Teague Sparrow, Megara, Li Shang, Esmerelda, Djali, Ariel, Nani, Kida, Basil, Melody, Milo...ok, almost everyone.

Loves(as in who I love)- [glow=pink,1,300]Persephone[/glow]-We're both REALLY miffed that they never made her into a Disney character, but my crazy rp-er has agreed to god-mod her here. I could go on and on and on about Seph, but I got a reputation to keep.

Loves(as in they love me)-[glow=lavender,1,300]Persephone[/glow]- Again, Persephone qualifies! Ya know, she's gotta be the only girl/woman/goddess/whatever-ya-wanna-call-it who actually loves me. And hey, I'm happy with that. <33 If only I didn't have to deal with her mother....
[glow=lavender,1,300]30,000,000 fangirls from all over the world.[/glow]- My rp-er's one of 'em.

Likes-

Aquaintences-


Worshippers- [glow=navy,2,300]There really should be more of these![/glow]

Annoyances- [glow=yellow,2,300]Captain Jack Sparrow[/glow]- AGH, he never shuts up about 'rum' and 'sailing' and whatnot!! It's no surprise--his dad is none other then *gag* Teague.
[glow=yellow,2,300]Howl[/glow]- He turned me into a penguin. Again, 'nuff said.

People Who Fear Him- [glow=teal,2,300]Gadget[/glow]- She's Panic girlfriend--a mouse who seems to be terrifyed of me. I am pretty terrifying, aren't I?

Minions- [glow=magenta,2,300]Pain and Panic[/glow]- Two shlubs who've worked for me since the beginning of time.

Ex-Minions- [glow=purple,2,300]Ariel[/glow]- I held her boyfriend hostage so she'd sell her soul t me. It only lasted a little while.
[glow=purple,2,300]Megara[/glow]- Ah, little NutMeg...I won't go into this one. Ya wanna find out more, go to Blockbuster and rent the movie.

I-Wanna-Kill-SO-Bad Worst Enemy- - [glow=limegreen,2,300]Jerkules Hercules[/glow] YARRGH! I won't go into this one either--again, rent the movie. It's a good one--I'm in it.

Assorted Family- [glow=chartruse,2,300]Persephone[/glow]- My babe of a wife *drool*
[glow=chartruse,2,300]Macaria [/glow]- My brat of a daughter--who, coincedently, is JUST like me.
[glow=chartruse,2,300]Hercules[/glow]- My nephew....unfortunately.



Well, thats all I got. Anyone wanna be listed here? Post and let me know!!